Defentry has closed financing round to expand in Europe
Defentry, a cyber safety company that protects personal data on the internet has closed a financing round to start expansion into Europe.
The financing round was led by Spintop Ventures. Defentry's founders and existing shareholders also participated.
Defentry has had strong growth over the past year providing its proactive personal data protection platform to distribution partners, software companies and large corporations. These customers and partners have successfully launched their services in Sweden and Finland with rapidly growing user bases.
Defentry will continue to expand throughout the Nordic region and into selected EU markets using the proven distribution model. The capital from the financing will be used to grow the team and establish the proactive personal data protection platform in new countries.
The Defentry platform has many components vital for a complete cyber safety offering.
It detects stolen personal data and alerts the end user before a fraud occurs.

It assists the end user to restore and protect personal data.

It educates the end user in how to protect personal data.
"People need data protection online and they know it. People are willing to take responsibility for the fight against cyber crime and they want the organisations and companies they trust to support them. There is a clear gap in the market for a company like Defentry that can provide a better protection of personal identities, and a more secure digital experience. Just like 9 out of 10 persons have anti-virus. I believe that personal data protection will become a standard product in the future." - says Christer Hernestig, Co-founder and CEO
Defentry'sThe ambition is to become a leading platform for personal data protection in Europe. The core of the SaaS platform is an ecosystem of multiple data sources that are aggregated and processed in Defentry's AI-powered analytics engine to proactively identify data at risk. The outcome of the analysis is immediately and automatically translated into warnings to end-users together with proposed actions and step-by-step guidance to execute the actions proposed in real-time.
"Digital identity theft and other fraudulent use of personal data is a massive and rapidly growing problem, becoming a major threat to all the positive benefits of digitalisation. The Defentry platform makes it very easy for companies to add personal data protection to a digital service proposition, as well as for companies to provide personal data protection to their employees to the benefit of the business and well as the individual. Defentry has a proven top class technology platform and a scalable distribution model. Spintop looks forward to support Defentry going forward"- says Finn Persson, at Spintop Ventures
About Defentry
With peoples demand for identity and privacy protection skyrocketing, Defentry is changing the landscape of Digital life Protection. Defentry offers the next generation of personal data protection platform that proactively monitors and protects personal information like identity, mail addresses, login information and personal financial information. Defentry has the most comprehensive system on the market, ensuring that individuals and companies are not exposed to identity theft, data intrusion or business fraud. The objective is to provide the world's most sophisticated platform for personal digital security and integrity. Defentry wants to solve the biggest challenges of protecting the entire digital life.
Press contact
Christer Hernestig, CEO
+46 73 230 73 00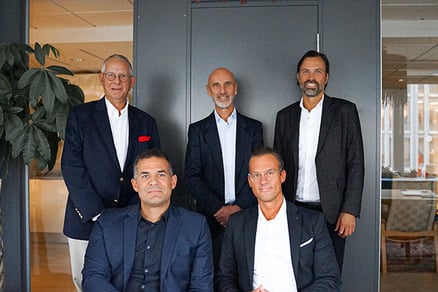 Standing: Board Members Jan Wäreby, Pontus Lesse and Peter Carlsson
Sitting: Founders Farid Lalami and Christer Hernestig